2023 Events
*Please refer to your 2023 Yearbook for contact information on any of the events listed below.
Ongoing
Complimentary Day Pass for 2 at Royal Botanical Gardens in Hamilton

Spring Tour in the Old Growth Forest — Thursday, May 11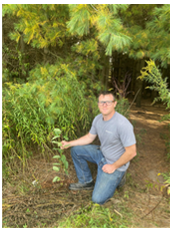 1:00 pm to 3:00 pm — Cost for members: $5.00
We will meet at the project entrance at 53 Cross Creek Blvd.
The tour will be led by Patrick Kelly; Coordinator of the Old Growth Forest Project; an initiative of the Ignatius Jesuit Centre. This is an opportunity to look for spring ephemerals, such as trout lilies, mayapple and a variety of other species as well as explore the trails, forests, wetlands and waterways of this amazing 93-acre property. It is also an opportunity to learn more about the work being done to protect and restore this diverse ecological setting to old-growth forest.
Society Plant Sale — Saturday, May 20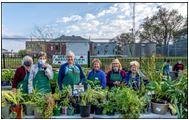 8:00 am to 1:00 pm Guelph Farmers' Market
Come early — plants sell quickly

Garden Showcase — Sunday, June 11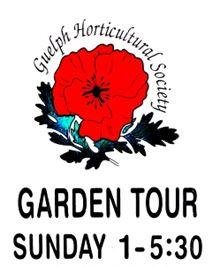 1:00 pm. - 5:30 pm
We look forward to the Garden Showcase; an annual event on Sunday, June 11, 2023, from 1:00 to 5:30 pm. Enjoy this self-guided tour of exceptional Guelph and area gardens. Again, there will be two country properties. (12:30 pm start). Tickets remain at the same price - great value for a popular event!
Featured this year is the opportunity for a "Walking Tour". Three of the seven gardens, plus the GHS Pollination Garden are located in Riverside Park. Visitors can easily stroll around the neighbourhood to visit these four gardens.
As always you will experience an interesting variety of garden styles and a diversity of plants. Explore creative ideas in design, eco practices and hardscaping including garden structures, art objects and water features. Satisfy your curiosity by posing questions and learning from the Owners, Garden Minders and Master Gardeners. Observe and adapt for yourself unique ways in which the owners fully enjoy their garden homes.
See the website, for garden locations and ticket outlets.
Tour of the Arboretum's Gosling Wildlife Gardens and Exploration of the Wonderful World of Trees Collection — Wednesday, June 14
1:00 pm to 3:00 pm - Meet at the West Lawn of the Arboretum Centre
Chris Earley, Interpretive Biologist and Education Co-Ordinator will lead us on a tour of the Gosling Wildlife Gardens to explain why the gardens are such a good example of how to attract wildlife to your backyard and help increase biodiversity in suburban or urban settings. He will also lead us on a tour to explore the Wonderful World of Trees. The Arboretum is home to over 400 species of trees and shrubs and boasts a broad collection of rare endangered native and non-native tree species and some living fossils. Some species have been around for millions of years and are still standing. Chris said he would talk to the Pawpaws and Tulip Trees to let them know to be blooming when we visit.
The cost of the tour is $5:00 per member
Annual Summer Flower Show — Saturday, June 24
Old Quebec Street Shoppes, 55 Wyndham St. (downtown Guelph)
Lilies and Lavender Bus Tour — Wednesday, July 12
Mark Wednesday, July 12 on your calendar and be sure to sign up for our Lilies and Lavender Bus Tour to Norfolk County. We will travel by comfortable coach to Whistling Gardens, near Waterford ON to tour 22 acres of some of the most unique perennial and conifer collections in Canada. We will be able to view the musical fountain show, purchase special plants from the garden centre and enjoy a pre-ordered, catered lunch under the marquis of salads, sandwiches and wraps. You may also bring your own lunch to picnic on the site. After lunch, we will travel a short distance to Bonnie Heath Estate, a family-owned lavender farm and winery. While walking the different varieties of lavender, you can enjoy a glass of wine, cider, lavender lemonade or ice cream! There will be an opportunity to pick your own lavender
More details will be coming and sign-up will begin on May 22.
Plant Propagation by Cuttings Workshop by Glen Cox — Saturday, August 12
10:00 am to 12:00 pm at 26 Maplewood Dr.
The workshop will include a tour of the garden containers and a discussion of cultural needs with an introduction to the various pelargonium and fuchsia varieties. The workshop will also include a demonstration on taking cuttings of various plants in the garden.
Maximum number of participants is 15. First come first served.
For the love of Monarchs Tour of Cecilia Meiering's Garden — Saturday, August 26
1:00 pm to 3:00 pm at 25 Hales Crescent.
For the last 14 years, Guelph Horticultural Society member, Cecilia Meiering has created a garden habitat to nurture monarch butterflies. She is truly committed to the survival of this at-risk species and readily shares her knowledge. You may even find yourself becoming a passionate advocate as well; particularly as Cecilia offers you a milkweed plant to create your own backyard habitat or a chrysalis to protect and nurture as you too help in the preservation of this remarkable species.
Succulent Xeriscape Dish Garden Workshop — Saturday, October 7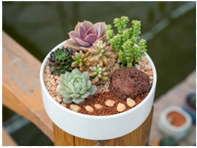 1 pm. at 108 Water St. in the coach house behind McCrae House
Succulents and cacti are desert-dwelling plants that enjoy plenty of sunshine and infrequent rainfall due to their unique water-retentive properties! Design, build, and take home or gift a beautiful low-maintenance dish garden of colourful plants, sparkling stones, and natural decorations. All tools and materials provided.
It is "first come first served" with a maximum number of 15 participants. The cost is $35.00.
Penny Table Evening — Tuesday, November 28
Doors open at 6:30 pm. Dublin Street United Church
Penny Table items are to be at the church by 7:00 pm.
7:30 pm. Meeting starts.
Speaker: Michelle Goff will be presenting "Xmas Design Demos".
Penny table prizes to be won.