2022 Events
Ongoing
Complimentary Day Pass for 2 at Royal Botanical Gardens in Hamilton
Members can contact Harriet Hull at 519 826 0310 to reserve a day
Tour of St. Ignatius Old Growth Forest Project
Friday, May 6 at 10:00 am to 1:00 pm (bring a lunch) Cost for members: $5.00
We will meet at the project entrance at 53 Cross Creek Blvd.
The tour will be led by the very engaging manager of the project, Martin Tamlyn.
The Old-Growth Forest Project is an initiative of the Ignatius Jesuit Centre. Situated just north of the City of Guelph, this 93-acre nature sanctuary of trails, forests, meadows, wetlands and waterways is protected forever by a Conservation Easement with the Ontario Farmland Trust. With the help of local students and community volunteers, it is the Project's goal to restore and protect these diverse ecological communities and to assist the regeneration of retired farmland, from old-field meadow to old-growth forest. The project has a 500-year vision. We will look at the importance and uses of native plants in the teaching garden and hear about community-assisted regeneration of meadows and forests. After lunch at the beautiful timber-framed picnic pavilion, we will be able to take a short forest hike along the banks of the Speed River.
Contact Eydie Marion-McCrae to register: 519-822-5933
Society Plant Sale — Saturday, May 14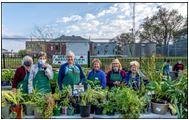 7:00 am to noon
Guelph Farmers' Market
Come early — plants sell quickly
Contact Kiki Danninger: 647-970-6669
Annual Summer Flower Show — Saturday, June 25
Old Quebec Street Shoppes, 55 Wyndham St. (downtown Guelph)
See page 22 of the 2022 Year Book for the entry schedule
Garden Showcase — Sunday, June 12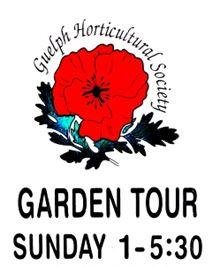 1:00 pm. - 5:30 pm
We look forward to 'Garden Showcase', an annual event that was in the summer, now changed to the spring- Sunday, June 12, 2022. Enjoy this self-guided tour of mature Guelph and area gardens with the bonus of two large country properties. (12:30 start)
Delight in the interesting variety of garden styles and diversity of plant materials. Explore creative ideas in design, eco practices, hardscaping, garden structures, art objects and water features. Satisfy your curiosity by posing questions and learning from the Owners, Garden Minders and Master Gardeners. Observe and adapt for yourself, unique ways in which the owners fully enjoy their garden homes.
Contact Susan Mason: 519-837-8274
Bus Trip to Trish Symons', Nico Van Der Sluis' and Julia Kron's Gardens
Wednesday, July 6 at 8:45 am
Leaving 9:00 am from Walmart, 11 Woodlawn Rd W. (North-East corner)
Please be sure to note July 6th on your 2022 calendar to join us on a full-day bus tour beginning at Trish Symons' lovely property, Hockley Meadows Farm in Mono Centre. Trish is an ardent gardener - a self-confessed addict, floral designer and judge, and was our feature speaker in September 2021! On this tour you will enjoy your picnic lunch at a scenic spot, visit two more beautiful gardens in Fergus, and make a nursery stop.
More details are coming soon.
Tickets will go on sale in March.
Contact Kathy MacKenzie to reserve your spot on the bus: 226-820-0799
Plant Cuttings Workshop by Glen Cox — Saturday, August 20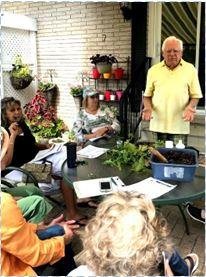 10:00 am to 12:00 pm. at 26 Maplewood Dr.
The workshop will include a tour of the garden containers and a discussion of cultural needs with an introduction to the various pelargonium and fuchsia varieties. The workshop will also include a demonstration on taking cuttings of various plants in the garden.
The maximum number of participants is 15. First come first served.
Contact Harriet Hull to register: 519-826-0310
Terrarium Workshop — Saturday, October 1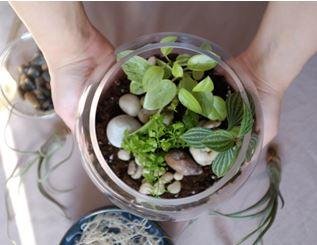 1 pm. at 108 Water St. in the coach house behind McCrae House
Join Senior Floral Designer Kiki Danninger of Blossom Moments as she guides you on how to create your very own customized terrarium in this DIY workshop.
A terrarium is a self-contained ecosystem with its own water cycle. This living piece of art requires little maintenance and minimal water. You will design and assemble a miniature tropical rainforest enclosed in glass. Each participant will be provided with a container, a custom soil mixture, gravel layers, multiple mosses, climbers, and tiny terrarium plants. Decorate your work of art with wee figures, beautiful crystals, natural slate rock, and more. Learn the art of composition and develop the skills to care for your plants through misting and submerging. Take your hand-made creation home to enjoy or give as a distinguished hostess gift. All materials are provided.
Maximum 15 people, Cost: $35
Contact Kiki Danninger: 647-970-6669
Penny Table Evening — Tuesday, November 22
Provided we are able to hold an in-person meeting.
Doors open at 6:30 pm. Dublin Street United Church
Penny Table items are to be at the church by 7:00 pm.
7:30 pm. Meeting starts.
Speaker: Tanya Olsen will be demonstrating some Christmas designs in her presentation of Seasonal Design Demos.
Penny table prizes to be won.